"Season's Transition" 「季節の移ろい」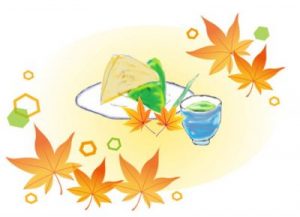 There are four seasons in Japan, and each change has its own taste, which makes us feel the arrival of the season.
 Transition from summer to autumn, the neighborhood is dyed in a bright autumn color in clear air.
Kyoto sweets, tea and autumn leaves, my favorite autumn image. 
"Season's Transition" composed & arranged by SunnyG
日本には四季がありその移ろいには、それぞれの趣きがあり、それによって季節の到来を
感じるのです。
夏から秋への移ろい、空気は澄みあたりは鮮やかな秋色に染まります。
京和菓子、お茶そして紅葉、私の好きな秋のイメージです。
「季節の移ろい」
作・編曲: SunnyG(サニー爺)