"Etude Lullaby of ITSUKI"「練習曲 五木の子守唄」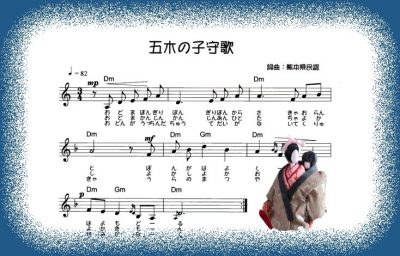 This song is a folk song that has been handed down to Itsuki Village in Kumamoto Prefecture.
Once upon a time, a girl from a poor family was left from her home as a babysitter in a wealthy family to reduce a mouth to feed.
This is the song that this baby-sitter girl sang about her poor environment while putting the infant to sleep.
"Etude lullaby of Itsuki" is the result of repeated practicing to arrange an orchestral music based on the one arranged as a piano song and introduced on the Net when I started studying music software in January 2012.
"Etude Lullaby of Itsuki" arranged by SunnyG
この曲は熊本県の五木村に伝承されてきた民謡です。
昔、貧しい家の女の子は口減らしのため裕福な家に子守りとして預けられたそうです。
この子守りの女の子が幼子を寝かしつけながら自分の貧しい環境を唄って聞かせたのが
この曲だそうです。
2012年1月 音楽ソフトの勉強をはじめた時に、ピアノ曲としてアレンジされNetで
紹介されいたものをベースにしてオーケストラ曲に編曲する練習を何度も繰り返した結果が
「Etude lullaby of Itsuki」です。
「練習曲、五木の子守唄」
編曲: SunnyG(サニー爺)

Audio-visual tested:
Microsoft Edge, Google Chrome, Firefox, Opera.
(Internet Explorer currently available)