"Sentimental Sunset"「センチメンタルな日没」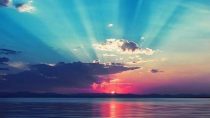 According to the English Japanese dictionary, sunset means "dusk", and when it comes to "sunset years", it means "old age" or "afterlife". Our rliamentarians, as soon as you stopped reducing your salaries in half a year, you are considering raising our pension age and reducing the amount of payment, then we became worried about our life after retirement. Is that why I become sentimental at dusk?
No, that's because the songwriting doesn't progress well.
2011.10.17
"Sentimental Sunset" composed and arranged by SunnyG. .
英和辞典によればsunsetは夕暮れ、これがsunset years となると晩年とか老後となる。国会の先生方、報酬減額を半年でやめるやいなや、年金支給年齢引上げだの支給額引き下げを検討、晩年、老後にまたぞろ不安を。sunset(夕暮)になると感傷的になるのはこのせい? いいえ、曲作りが進まなくて情けなくなっているためです。
2011.10.17
「センチメンタルな夕暮れ」
作・編曲: SunnyG(サニー爺)